Paul Allen and Betsey Dahlberg grew up in small towns, in family businesses. Paul's father had an auto shop in rural Upstate New York, and Betsey's home was the Hope Springs Farm in Stone Mountain, Georgia. After many years of working for other people, their hearts still raced with the entrepreneurial spirit.
When the world thought they should retire, they shook their heads and said, "Not this year." After twenty years of brewing beer, wine, and mead, it was natural to move into distillation.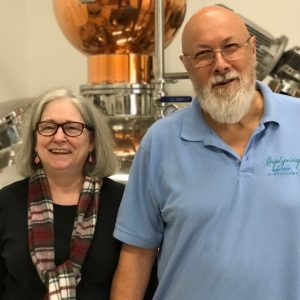 "Hope Springs Distillery is our dream and vision. We have a passion for creating the highest quality small batch alcoholic spirits. We have already bottled Vodka, Gin and Absinthe, and we look forward to pursuing spirits giving praise to Georgia's diverse agriculture production.
We still remember what it was like to live in a small town and patronize the businesses of our hometown friends and neighbors, and that is the attitude we bring to Hope Springs Distillery: a hometown business."