Our current tasting room hours are  1 to 4 on Fridays and Saturdays, but check first to make sure we are here: posted here, on Facebook and Instagram. The Tasting Room is not actually open, but we have opened our back roll up door to make sales of bottles of spirits and hand sanitizer.  Also, if you need to come by at another time to buy a bottle, or just feel like visiting, call or send us an email, and if we can, we'll open up for you!
At present, we are not offering tours or tastings, and we are not serving cocktails.  We are selling hand sanitizer in two sizes, 11 ounce and 64 ounce, and all three of our spirits, Top Hat Vodka, Garner Creek Gin, and Illusion Absinthe.  We hope to keep everyone safe, and will reopen the Tasting Room when we think it's safe.
Our address is 4839 Railroad Avenue, Lilburn, Georgia 30047.  We are down the hill behind Antiques on Main Street, past the Sports Academy and past Ghillie Suits.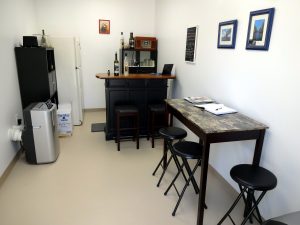 Absinthe Fountain